I have two goals in mind when working on a customer's car:
1. I intend to make sure the customer is happy with the results and the price.
2. I hope that the customer will go on to recommend my business to others.
I have a personal commitment to being fast, accurate, and fair. And I have a team ready to tackle any repair challenge our customers bring to us. I now employ two mechanics, a tire specialist, and an office assistant, in addition to myself.
I have a history of delivering trusted car care and maintenance work, and our customers come back time and time again for repair work, or to purchase cars from us.
I look forward to serving you.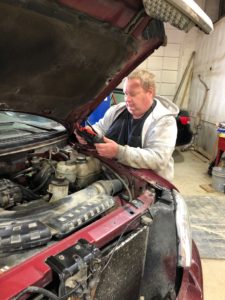 The Prius Guy
For more than 18 years, Brian Oedekoven has been servicing automobiles of all makes and kinds. In that time, Brian has established himself as the "go-to guy" when it comes to Hybrid repair in and around Sioux City, Iowa and southeast South Dakota.
Brian's Repair serves Prius customers across the Midwest.  His skill and expertise has earned him the title "The Prius Guy".  Brian has a personal commitment to serve his customers in a manner which is fast, accurate, and fair.
PROFICIENT IN ALL TYPES OF REPAIR:
All Makes & Models of Cars and Trucks
Insurance Salvage Prius Cars
New Tire Sales & Repair
Front End Alignments
2001 to 2018 Prius Repair
All Toyota Hybrid Cars & Trucks
Factory Toyota Techstream Scan Tool
Hybrid Battery Service & Repair
Engine Service & Repair
Electric Transmission Service & Repair
Electric Water Pump Service & repair
Electric Brake Controller Service & Repair
Electric Air Conditioner Compressor Service & Repair
Digital Dash Service & Repair
Windshield Replacement
Headlight Issues Resolved (we offer a conversion from "HID" light to standard headlight)
We are happy to announce that we are now offering a Rebuilt Hybrid Battery for all Toyota Hybrid vehicles including a 6 Month Warranty -same day service in most cases *Core charges may apply
CALL US FOR A QUOTE...
In most cases, Brian can save you up to 50% of what the dealer's charges.  So pick up the phone and give Brian a call at 605-761-5702 or use our convenient CONTACT FORM to send Brian your question or get your quote today!